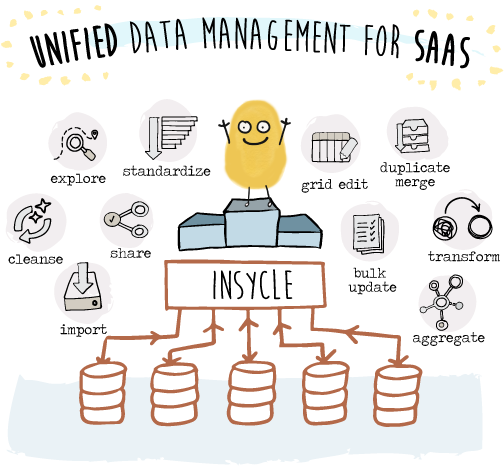 The modern way to organize, cleanse, and update data
in multiple platforms – all in one place.
Bulk Update
For example, mass update Lead status, source, and owner without the typical export/import CSV roundtrip.
Merge Duplicates
Merge any record type, match by any field, merge more than 3 records together, and see all field values.
Standardize Data
For example, standardize Lead titles or Account city/country to group them correctly in reports.
Share Views
Instead of creating and exporting reports, share records with your colleagues with one click, they will see the same records, fields, and sort order.
Find Bad Data
For example, find Accounts with no website, Leads with no Title, or Opportunities with no probability.
Cross-Object Search
Search across Leads and Contacts to support Account-Based activities, or search within fields (e.g., Leads with title that contains ``VP``)
Data Analytics
Get insights into the records that are being created and modified by users or triggers.
Aggregate & Pivot
Quickly analyze Opportunities on the fly, without switching between complicated prepare and create report screens.
Segment Data
Easily segment your Leads and Accounts for Marketing campaigns and Sales activities.
Free 7-day trial · No credit card required